INSTANT CLEAVAGE BOOST  🍒

Wish you had a fuller bust? Or are you simply tired of your breasts sagging?

Our Strapless Push-Up MagicBra™ is PERFECT for girls with both small or fuller busts! 
Flaunt what you've got and increased your cleavage instantly with this Magic Bra! 

The Magic Bra comes with skin friendly bio-adhesive on the inside of the cups – making it reusable and washable several times.
Giving you full support and maximum comfort, our push-up bra promises to provide you with that lift you've always desired.

Magic Bra is one of the most trendy push up bras out there. Great to use with backless and low-cut outfits.

The Perks
Backless, strapless and completely invisible - No need to worry about bra-straps or back-buckles!
Adjustable cleavage boosting lace-up front - Get maximum cleavage instantly!
Stays in place all day with skin friendly bio-adhesive
Washable and reusable for up to 15+ wears
Angle wings cup design gives a smooth transition from skin to bra
How to Use
Make sure your skin is completely clean and dry before applying
Loosen the tie clasp on the bra partially
Peel off the plastic protectors gently (do not throw away)
Lean forward and allow your breasts to fit into the bra cups (one breast at a time) 
Push the tie clasp upwards to create your desired cleavage
To remove, slowly peel the cups away from the skin and re-apply plastic protectors
Care Instructions
If you wish to wash the bra, remove the plastic protectors, hand wash only in warm water and allow to dry naturally

Once the bra is thoroughly dry, re-apply the protectors

Do not wear overnight, use of bra is recommended for 6-8 hours at a time

DO NOT machine wash or tumble dry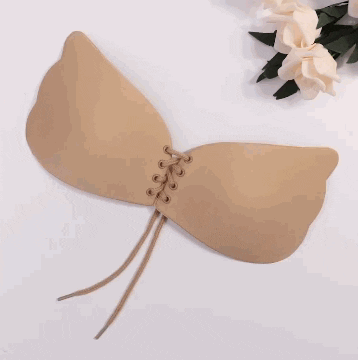 BaeBasics Guarantee
🚚 Free Shipping: 2-4 Weeks
✅ 30 Day Satisfaction Guarantee 
🛡️ 100% Secure Payments