Perfect Eco-friendly Alternative to Pads or Tampons


BaeCup is a comfortable, reusable, and eco-friendly menstrual cup that replaces pads and tampons. An easier, healthier and smarter choice when it comes to your period.
Save your money and environment! BaeCup can last for up to 10 years.
It can be worn for up to 12 hours at a time, even while you're sleeping or exercising.
It collects as much as 3 tampons worth without drying you out, maintaining a healthy vaginal pH and microbiome - Your vagina will thank you!

Perks
Reusable: BaeCup is reusable for years! No constant waste and no monthly purchases.

Natural & Safe: Made of 100% soft medical-grade silicone. No BPA, no latex, no plastic, no dye.

Reliable: Holds up to 3 tampons worth and can be worn for up to 12 hours.
Comfortable: Soft & flexible for all day/night wear. No leaks, no worries.

❤️ Fun fact: With the BaeCup you can save $150 - $300 a year on disposable period products!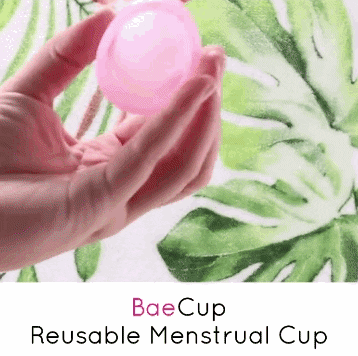 How to insert
Wash your hands thoroughly before inserting your BaeCup.
Apply water or a water-based lube to the rim of BaeCup for easy insertion.
Tightly fold your BaeCup in half, holding it in one hand with the rim facing up.
Insert the BaeCup, rim up, into your vagina like you would a tampon. It should stay a few inches below your cervix.
Once the BaeCup is in your vagina, rotate it. It will open up to create an airtight seal that stops leaks.
How to remove 
Wash your hands thoroughly before removing your BaeCup.
Put your index finger and thumb inside your vagina. Pull the stem of the BaeCup gently until you can reach the base.
Pinch the base to release the seal and pull down to remove the BaeCup.
Once it's out, empty the BaeCup into the sink or toilet.
Care instructions
Before using your BaeCup for the first time, sterilize it in boiling water for 3-5 minutes.
You can wear your BaeCup for up to 12 hours. 

Depending

 on whether or not you have a heavy flow. Your BaeCup should be emptied at least twice a day to avoid leaks.
You can use the included foldable sterilizing cup to sterilize the BaeCup in a microwave or by using a sterilizing solution.
BaeBasics Guarantee
🚚 
Free Shipping: 2-4 Weeks

✅ 30 Day Satisfaction Guarantee 

🛡️ 100% Secure Payments